By Mark Binetti
Since its inception in 2010, Spire Sports + Entertainment (SS+E) has much to be proud of as an organization. From its humble beginnings as an agency, to managing championship drivers at the highest level of motorsports, owning and operating two affiliated ECHL professional hockey teams, to owning two full-time NASCAR Cup Series teams, SS+E has seen success at virtually every level of business.
Part of this success is due to the eclectic nature of the staff it employs. SS+E is a point of convergence for people of vastly different backgrounds, experiences, and career paths which has led to growth, current success, and a dynamic outlook for what lies ahead.
One of the many unique characters that make up SS+E is industry veteran Don Rohr, who joined Spire in 2014. With no background in motorsports from any relationships, and mainly playing stick and ball sports, his passion for racing started, oddly enough, from seeing a brand, Kodak, and the team's victory at the 1991 Daytona 500 on television. At 11 years old, Rohr quickly became engrained in NASCAR,
attending an event at Watkins Glen the following year and getting a firsthand look at the No. 4 car at a local car show appearance. Since then, 32 years and counting, Don has only missed two races at "The Glen".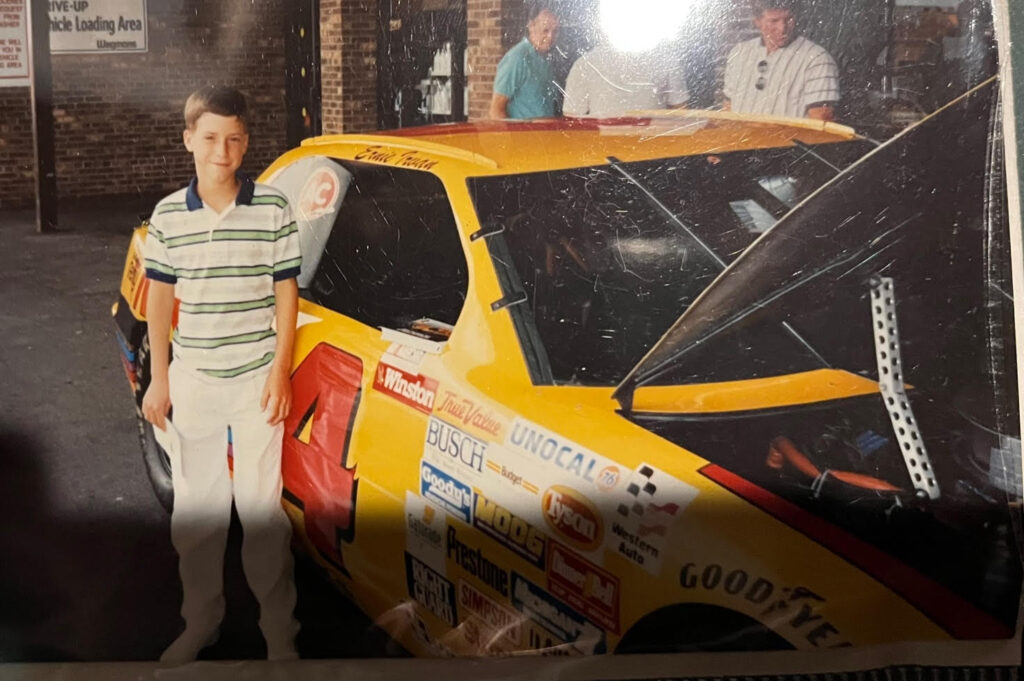 Following his college graduation, he worked promoting rock shows in Rochester, New York, toured with bands for many years, including Canadian band Simple Plan, and worked with record labels in Manhattan, all the while religiously attending NASCAR Champions week events. Additionally, he helped former NASCAR Cup Series driver, Carl Edwards, with his record label, Back 40 Records. However, in January of 2008, it was time for a change, and he moved to Charlotte, N.C. There, he began his motorsports career, working with driver Brian Vickers.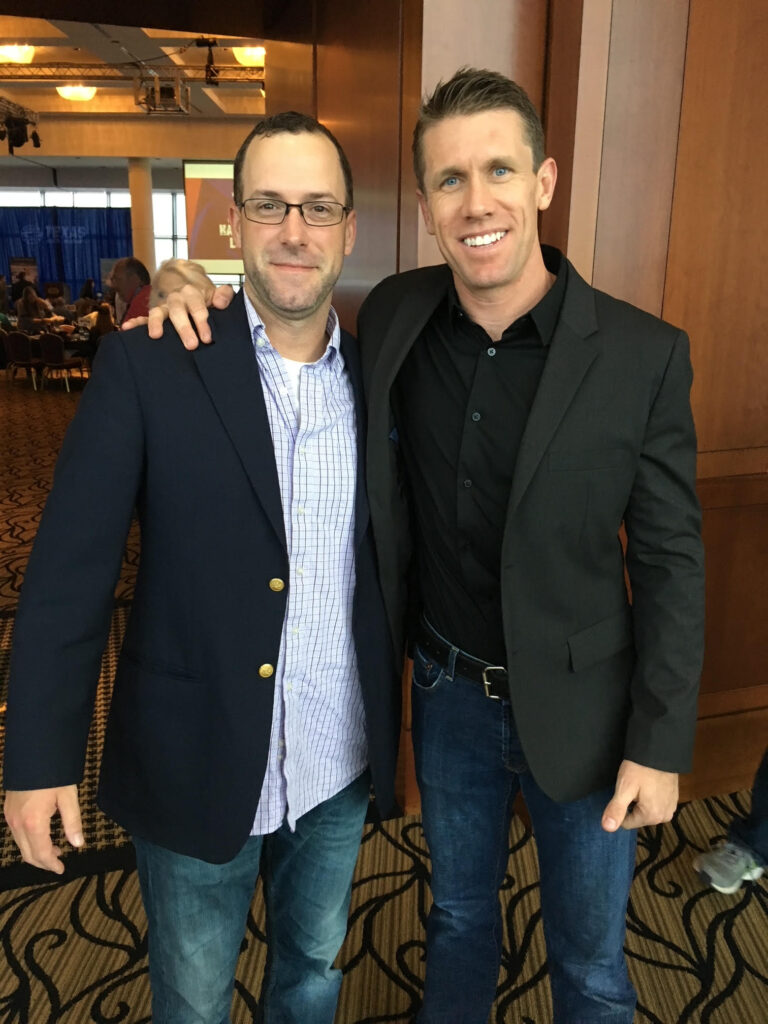 "My start with Spire really dates to working with Brian when he was racing with Red Bull in NASCAR's Premier Series," said Rohr. "Through a deal we had with Braun Racing in the Nationwide Series, I met Spire co-owner T.J. Puchyr. He became a great friend and mentor, and really showed me the ropes of motorsports.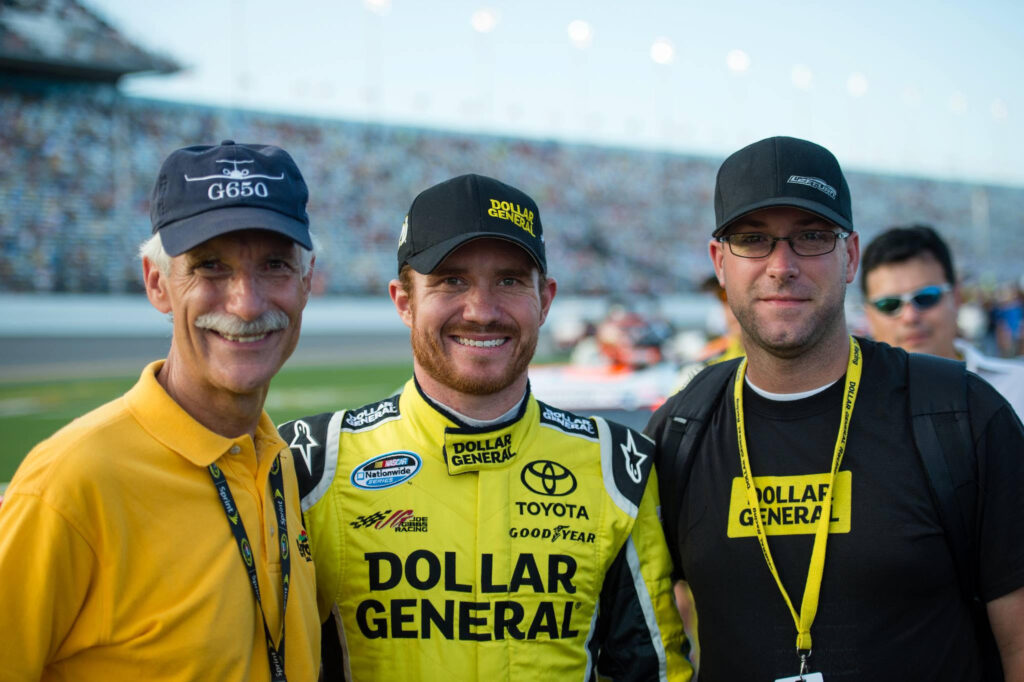 "In January of 2014, I came to a point where we collectively felt I had outgrown what I was doing with Brian as an individual, and Spire took notice," he continued. "Jeff [SS+E Co-Owner Jeff Dickerson] and T.J. discussed it, said 'Well, we like him, and we trust him. Let's bring on Brian and Don and get him involved in other projects.'"
With Spire, Rohr continued to work with Brian Vickers until he assumed management responsibilities for Canadian IndyCar driver James Hinchliffe. With Hinchcliffe, Rohr tapped into his previous experience in the Canadian market, securing major sponsorship deals with Canadian Tire and Petro Canada Lubricants. James is not only a client of Rohr's, but also a "brother" and a great friend.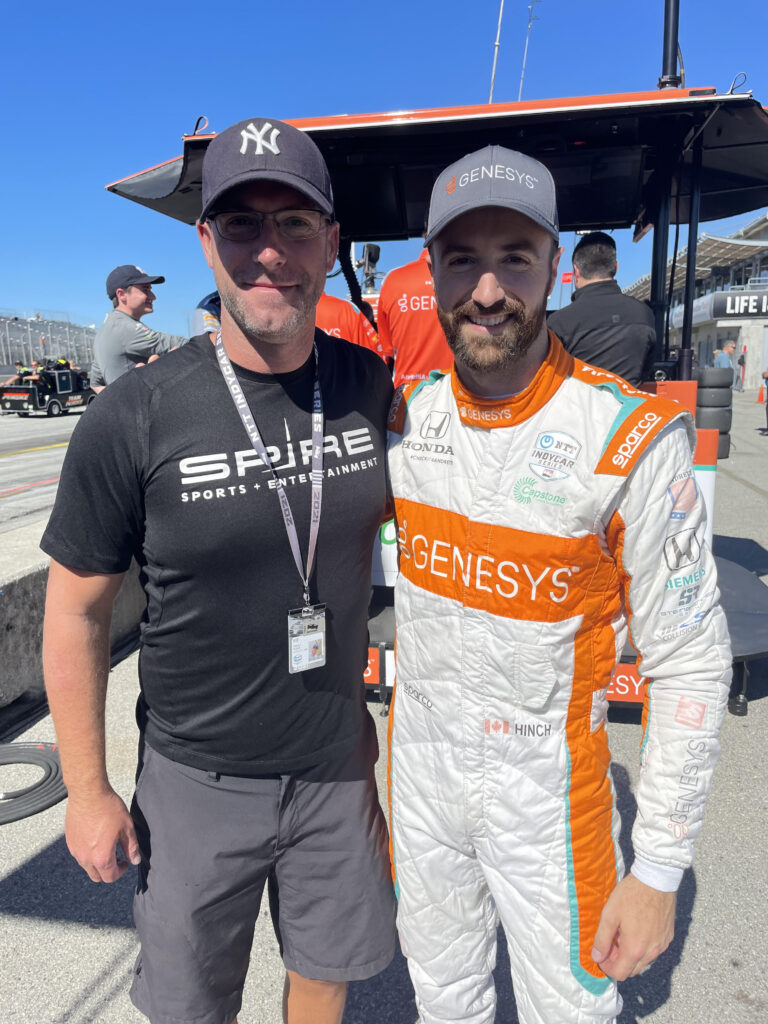 As his success continued, a Canadian motorsports team inquired about his services, leading to his current work in Commercial Business Development with Pfaff Motorsports. "I was sitting in Indianapolis, and my phone rang with a Canadian 905 number. Turns out, it was Steve Bortolotti, the General Manager of Pfaff Motorsports," Rohr explained. "He asked if I wanted to help them raise money for their motorsports team, and I was certainly interested in the opportunity. We set up a deal where Spire would be the team's agency of record. I've always loved sports car racing. The fan base is amazing, the environments are amazing, and I always wanted to check that last box with working in sports car racing, so this was an opportunity and challenge I was incredibly excited about."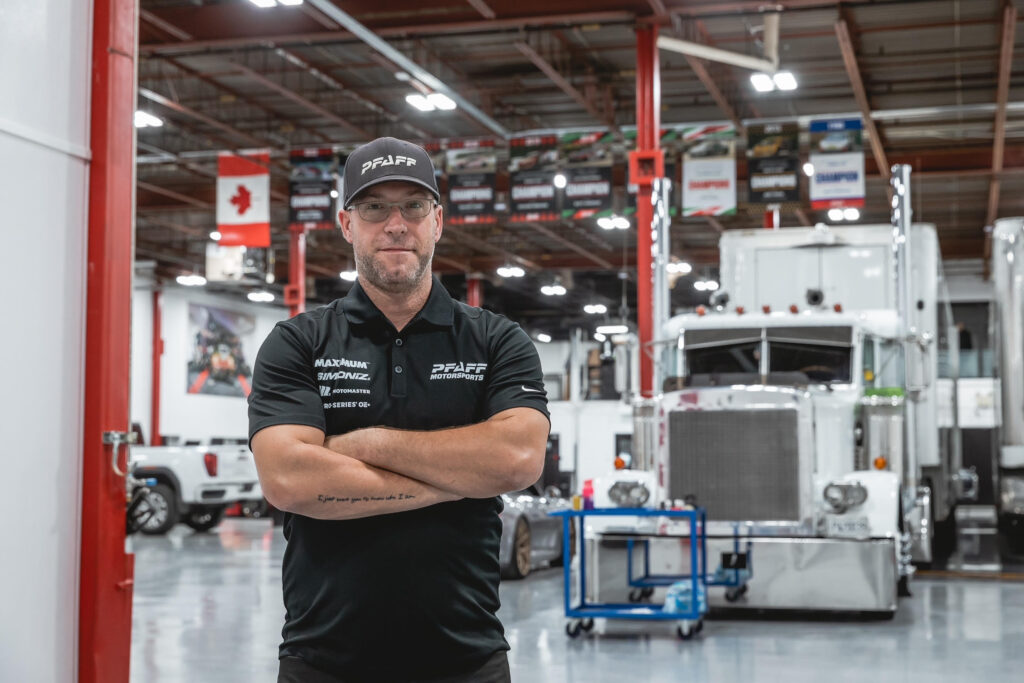 Pfaff Motorsports is owned by its namesake, Chris Pfaff, one of the most successful car dealers in all of Canada. According to Rohr, Pfaff dealerships are top sellers of the Porsche, BMW, and McLaren brands in Canada. They make a noticeable impact not just in their country, but globally.
"Chris was supporting the team out of his own pocket and wanted to bring someone in to help put [sponsorship] stickers on the car. That's where I came in, but the project was much more intense than that," Rohr continued. "The team had a frame of a website, not much of a sales deck, and had never really done many, if any activations, customer hosting, or hospitality. I got to formulate the whole commercial side of it, which has presented some challenges, but has been great. Laurance Yap and Steve have been great teachers in the automotive space.
"It's not just a business development deal, it's a whole team ecosystem development program. They didn't have a merchandise program, for example, and now that's bringing in six-figures through sales for the team. It's everything from making sure the website is right, coming up with social media strategy, and having the right content people in play at the track. We have built great partnerships with those who bring our content to life. It's helping them talk to people and meet potential partners they wouldn't have met under normal circumstances. Ultimately, it's led to a nice breath of fresh air with the different partners and individuals we've teamed up with. Look at our work with Canadian Tire. It's a great partnership that now has more meaning to our home race at Canadian Tire Motorsports Park in Ontario and having an organization like Driveway believe in the program is a wonderful accomplishment."
Rohr attributes his success with Pfaff, and his career in general, to the lessons learned from his Spire teammates and the family atmosphere amongst his colleagues.
"Spire has been great in giving me as much rope as I need to succeed or fail and learn from it," Rohr said. "But honestly, the family feel is one of the most special parts of my experience with the group. Whether its Jeff and T.J., Bill Anthony, Stephen D'Hondt, or my check-ins with Todd Mackin, I've truly learned so much from this group. The family atmosphere is great because there is a multitude of individuals that you can lean on for advice or a lesson of any kind throughout all walks of this business.
"In particular, T.J. taught me a long time ago about the power of a personal relationship with these sponsors. Treat them like family and go above and beyond to learn about their family too. The relationship goes well beyond a sticker on a racecar, or something hospitality related," he continued. "Thankfully, I've used this to achieve success professionally, and maintained a lot of these relationships personally, even if deals have ended or fallen through. These people I've worked with over the years, both with Spire and the partnerships I've made, have truly become family.
"It's not just the Spire family. I've been fortunate to have my own family attend multiple events. From the early days at NASCAR events, to the Indianapolis 500, Watkins Glen for IMSA, and this year at VIR when Pfaff won with both my family and parents in attendance, it has been a wonderful feeling to have those who sacrifice at home with me to celebrate."
As Rohr's success continues with Pfaff Motorsports, so does the team's with the dawn of a new season. Pfaff enters 2023 as back-to-back defending class champions, having won the 2021 IMSA WeatherTech SportsCar Championship GT Daytona (GTD) Class and the 2022 IMSA WeatherTech SportsCar Championship in the inaugural running of the GTD Pro Class with their iconic plaid No. 9 Porsche 911 GT3 R.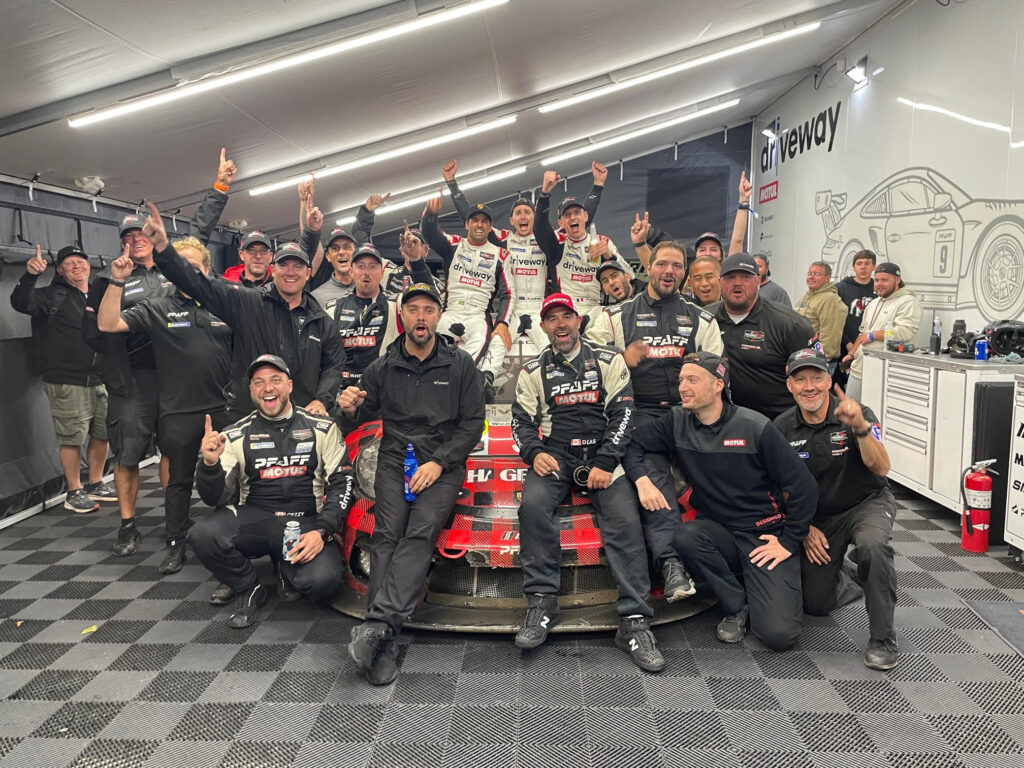 The most recent championship run consisted of a dominant five victories and three additional podium appearances over 10 rounds. Each season begins with the "Crown Jewel of North American Endurance Racing": the Rolex 24 Hours at Daytona. Under the brilliant driving of Frenchman Mathieu Jaminet, Australian Matt Campbell, and Brazilian Felipe Nasr, Pfaff won the inaugural GTD Pro Class of the event,
its 60 th running, in an all-time battle to the finish in 2022.
"To try and put it in layman's terms, the Rolex 24 is essentially you and three of your buddies drive cross country from Charlotte to Seattle and the only time you stop is for food, gas, to switch drivers, or to use the restroom," Rohr explained of the season-opening race. "It's the ultimate test of man, woman, and machine. It's like driving down the highway with four different lanes and everyone is going a different speed. It's the ultimate test of a piece of machinery that these automotive brands have sunk tens of millions of dollars into R&D. It's cliché, but every second counts, and it's a race where every team member plays an integral role in the event."
For the uninitiated, endurance races are different from standard races, where the drivers attempt to be the first to cover a specified distance as quickly as possible. Instead, endurance races are won by traveling the longest distance over a fixed amount of time. Such is the challenge with the Rolex 24. As its name implies, the winner is whoever drives the furthest over the course of a full 24 hours.
"Everyone performed so well under the toughest of conditions," Rohr explained of the win last year. "Weather played a challenging factor, getting as cold as 28 degrees Fahrenheit, and certainly complicated things. At the end of the day, Pfaff Motorsports executed brilliant strategy across all phases with driver changes, pit stops, and tire changes. Thankfully, there were no part failures as well. What Jaminet did at the end racing against Laurens Vanthoor, who raced with Pfaff the previous season, was incredible. He battled hard, and it came down to his vast knowledge of the car he drove. He bumped some fenders, knew what the car could and couldn't handle, and it made for a crazy finish. At the end, we all thought to ourselves 'What just happened? Did we win? Oh my we won!'. It was an unreal feeling.
"I can't imagine what the celebration would've been like if we actually had been better rested," he finished the story with a chuckle. "We were all exhausted, but relieved once the race ended, that's for sure."
With a new season upon us, Rohr reflects fondly on Pfaff's growth since it began its partnership with SS+E in January of 2022 and where it hopes to go in 2023, beginning with the Rolex 24 Hours at Daytona on January 28th .
"Winning these championships, especially last year in the team's first season in the GTD Pro class, was a huge feat for them. Think about it. All season long, they beat teams with much larger budgets and, quite frankly, more people," Rohr explained. "Pfaff has three and a half full-time people and a dog in the shop. You look at some of these factories like Corvette, Lexus, and BMW, and they have 16-20 people per car
and twice the budget. It's a testament to the people the team manager has hired and the trust he has in them to do their jobs. It's a band of brothers that went to war together and came out on top.
"The Rolex 24 coming up is our 21st race together as a team, and in that time, Pfaff has won back-to-back championships over two great seasons. Last year's victory spring boarded us to another four wins and another title, absolutely crushing the field. It really set the tone," he concluded. "So what does this year look like? It will be different because the 911 Porsche we raced with last season is no longer with us.
That was the winningest 911 Porsche in history: more race wins, more championships, and it was with our little team in Canada. There's a new 911 based off the 992, so there will be a lot of learning. Most of the manufacturers have a new car this year which will shake things up. The 'Roar Before the 24', which is like our preseason or training camp, will be a good test to see the gains our engineers have made on the car with respect to balance of performance. In any of these 24-hour races, it comes down to survival. Last year, at any given time, there was a battle for position. I don't see any reason why if we're not fast out of the gate and in the final hours that we won't have a chance to win this thing again."
This past weekend, Pfaff Motorsports and their team comprised of Austrian Klaus Bachler, Frenchman Patrick Pilet, and Belgian Laurens Vanthoor began the defense of their back-to-back titles at this year's Rolex 24 at Daytona, finishing 5 th in the GTD Pro Class. Bachler was the starting driver, while Vanthoor provided the team's fastest lap.