by Mark Binetti (@BinettiPxP)
If you ask anyone that works in any discipline of sports how they got to where they are, you'll hear countless different stories that ultimately directed them to where they currently stand. For some, sports are a family bond. For others, sports are the family business, and for the rest, they may have a creative story of how they stumbled into the realm based on the combination of perfect timing, knowing the right person, and sheer luck.
No matter the path, the journey seems to start with a defining childhood memory, or a series of recollections where vivid details are remembered as if they happened yesterday. It eventually leads to a moment professionally where the journey, although not always completed, comes full circle.
In the case of motorsports, you could say it all comes "full oval."
For Matt Klug, Spire Sports + Entertainment's Director of Communications since 2018, his "full oval" moment will come this weekend on May 21st as NASCAR hosts the 2023 All-Star Race at the historic North Wilkesboro Speedway. It's on the 0.625-mile track in Wilkes County North Carolina that STP, a partnership he's managed for Legacy Motor Club through SS+E since 2022, will be featured as the primary sponsor on Erik Jones' No. 43 Chevrolet Camaro ZL1, recreating the iconic look of 15-time North Wilkesboro Speedway victor, "The King", Richard Petty.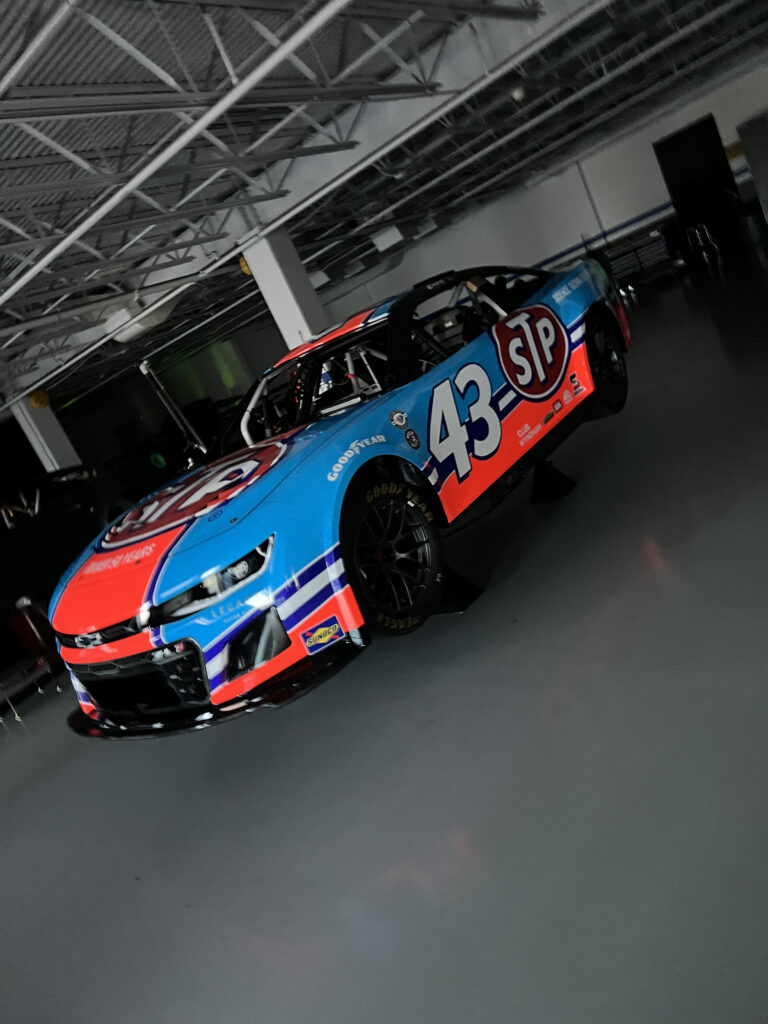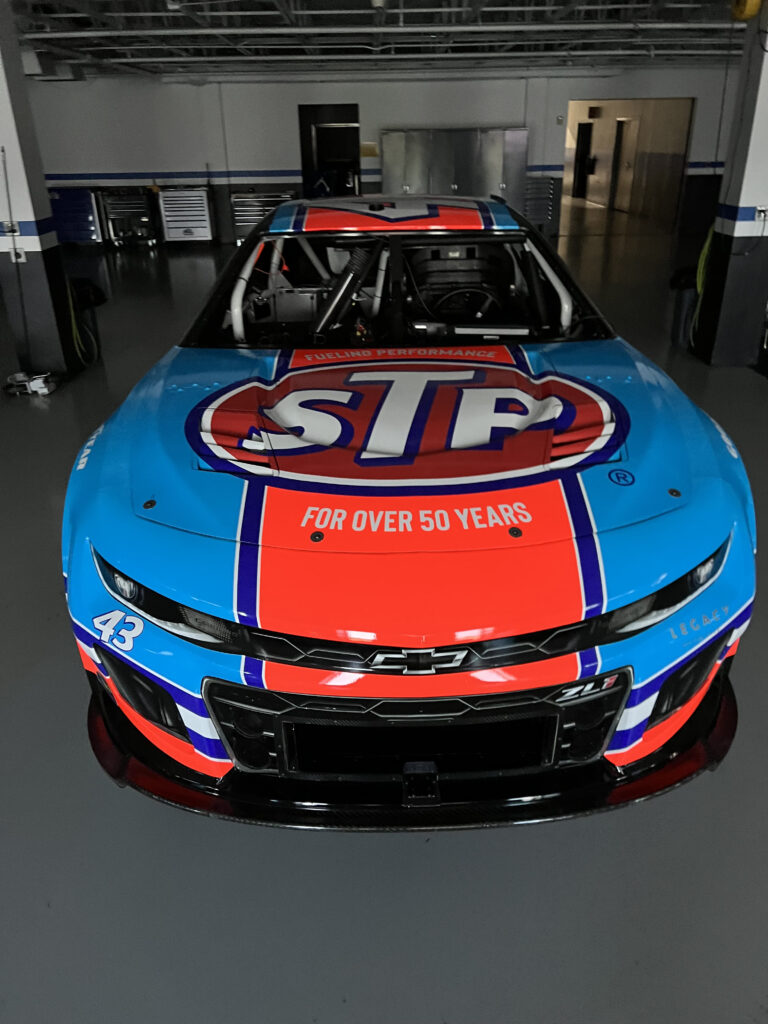 Erik Jones No. 43 Chevrolet Camaro ZL for this weekend's 2023 NASCAR All-Star Race (PHOTO: Legacy Motor Club)
Klug's journey begins in Milwaukee, Wis., where his parents took him to a variety of tracks to enjoy the thrill of racing and motorsports. From the former Hales Corner Speedway dirt oval, to Slinger Speedway, to living just a few miles away from the legendary Milwaukee Mile, Klug had his fair share of exposure to motorsports in what he considers a "hotbed for pavement late model racing". In a state usually dominated by the Green Bay Packers, Wisconsin Badgers, and Milwaukee Brewers, Klug said his first love was always motorsports.
"My dad used to take me to the Milwaukee Mile as a kid to see IndyCar races. I remember just being fascinated by the speed, the cars, and especially the colors of the cars. Bringing this full circle with STP, my favorite racecar driver growing up was Gordon Johncock, who drove the STP IndyCar," Klug said. "That car just did it for me. It was so cool. The paint scheme was so vibrant and really stood out amongst everyone on the track. Gordon Johncock was a legend, an American, and feared nothing when he was behind the wheel, which is why he was such a pleasure to watch compete.
"From that point on, I was always into racing. The sights, the sounds, the feel, the business of it, was always fascinating to me."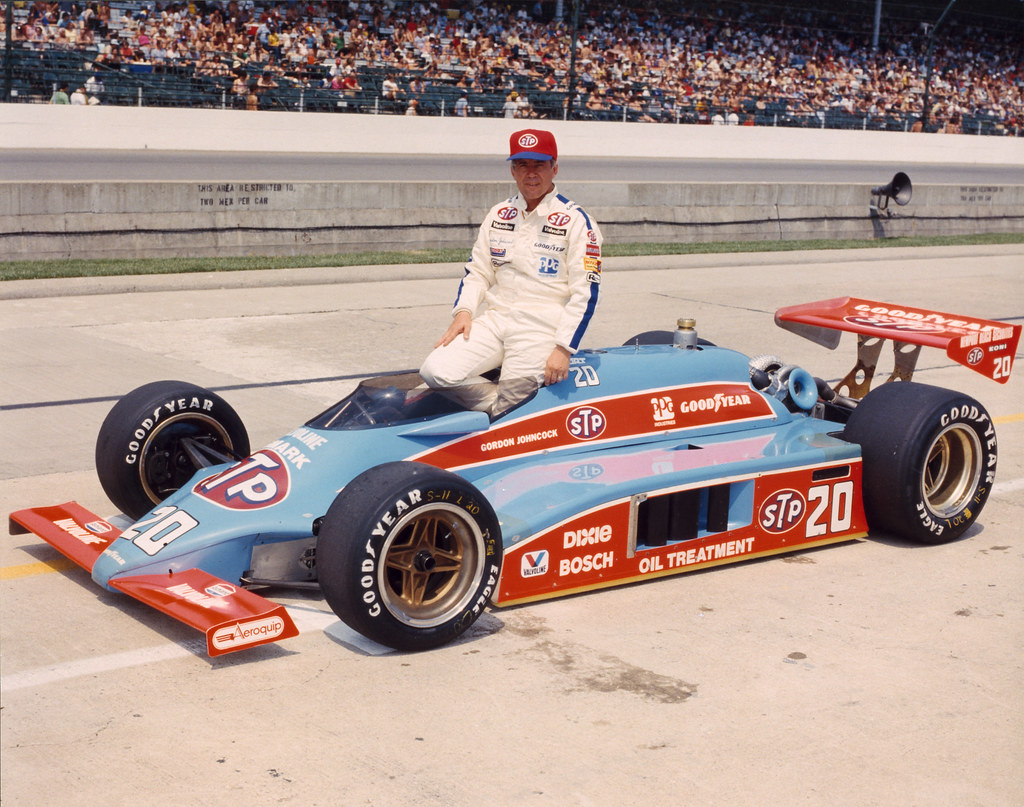 As Klug got older, he briefly found himself on the competitive side of motorsports. In 1993, he was asked by his longtime friend, Mike Cluka, the crew chief for Jeff Neal, to come work on his No. 5 ASA Splitfire Spark Plugs car.
"Working on the car, it was then I knew, somehow, I had to figure out my way into the business professionally. I just knew it's what I needed to do," Klug explained.
The experience on the competition side, however, was short lived. Following that season, Cluka and Neal both moved from Wisconsin to York, Pa., and went Busch Grand National racing. After grinding away weeks on end at the ASA level, he put working on racecars in the past. Not too long after, he met notable Milwaukee racing broadcaster Jim Tretow at a bar Klug tended. It was during this chance meeting, a sponsored driver appearance at Klug's establishment, that Tretow connected Klug to Dave Austin, PR Director of the Milwaukee Mile.
The conversation with Austin led to a long-term internship at the Milwaukee Mile in public relations. For four summers during his time pursuing a B.A. in Mass Communications from University of Wisconsin-Milwaukee, Klug got firsthand experience dealing with any and all aspects of motorsports PR: compiling pit notes, retrieving quotes from and interfacing with drivers, and writing pieces, among his many responsibilities.
When Klug graduated, he experienced life in the fast lane, literally. His graduation date was December 17, 2000. Exactly six days later, he got offered his first job from his long-time mentor, John Close, with the Motorsports Management Group doing PR for driver Scott Riggs and the No. 2 Team ASE truck for Ultra Motorsports. He was then expected to be in Charlotte eight days after that to start on January 1st.
"It was super fast, but I was on top of the world," Klug explained. "It was such a great first job to have. John was a great guy to learn from and I still, to this day, lean on him for guidance. It was a time when the truck series was really taking off, and I was even more fortunate to travel the country for work and be involved with a premier team."
"Premier" is an understatement. In 2001, Riggs earned 14 top-five finishes, which included five victories, second highest among all drivers, and finished fourth that season in the point standings. Additionally, he had the opportunity to do PR for Riggs' teammate, Ted Musgrave, who led the entire series with seven wins that season and finished second in points. After Riggs moved on to the Busch Series following the 2001 season, he managed the PR for the late Jason Leffler, who piloted the No. 2 truck in 2002. However, following that campaign, his agency group lost the Team ASE business, putting his future in jeopardy. As luck would have it, a position opened back home in Wisconsin, specifically, at the ever-so-familiar Milwaukee Mile Klug visited countless times growing up. While it seemed like a destination opportunity for the hometown product, Klug understood returning to Charlotte was critical for the progression of his career.
In March of 2004, Klug came back to the southeast to work with Richard Childress Racing in PR and account management. Over the course of the next seven years, the account management aspect of his role took off, opening doors through interactions with high level executives and decision makers. It provided a new perspective on the business he'd professed himself to.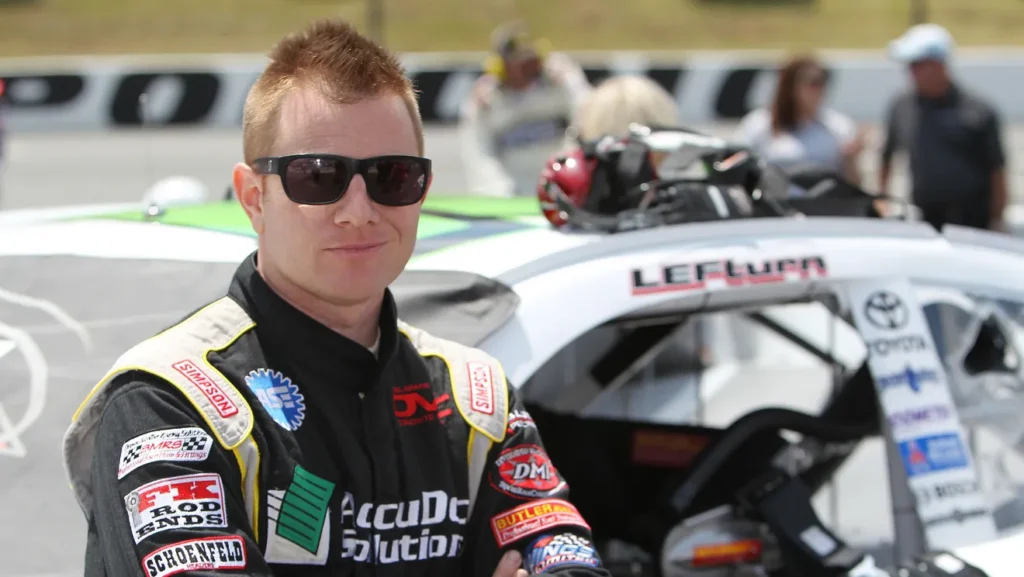 Throughout the process, he stayed connected to Leffler. It was through Leffler that he eventually met current SS+E co-owner TJ Puchyr, which ultimately set him on the path to his present-day role.
"I remember being asked by the head of sales at Charlotte Motor Speedway for a driver to appear at an event for a Verizon store. I suggested Jason for the appearance, and TJ happened to come with him," Klug explained. "TJ and I hit it off and remained in touch. After I eventually left RCR, there was an opportunity to be the head of communications for a NASCAR truck team at Turner Motorsports, for which TJ was the General Manager. He reached out, and asked if I wanted to join their team. It was our first time officially working together, and really paved the way for the work we do together now."
After spending 2011 working with Puchyr, Klug's line of work in the business evolved between a multitude of partners, businesses, and teams over the ensuing years. He entered a business relationship with Cometic Gasket, added Klotz Synthetic Lubricants to his ledger, and was asked to quarterback PR for the newly formed RCH Racing with Ricky Carmichael and Carey Hart in the supercross and motocross spaces. Over that time, Klug and Puchyr remained in touch, and in 2018, the stars aligned for a reunion between the two at Spire Sports + Entertainment.
"We saw each other after a fishing tournament that Cometic sponsored and had a late night business discussion," he explained. "Business was booming with Spire, and it seemed like the timing was just right to be a part of it all. We put a program together, and I came to Spire in January of 2018.
"A few years into my time with Spire, the account manager of STP left to pursue an opportunity elsewhere. TJ asked me if I'd handle the STP business, in addition to my other roles, and I accepted," he continued. "That brings us to today, and it's been great to help grow that relationship."
An abbreviation for "Science. Technology. Performance.", STP is an American brand of automotive aftermarket products headquartered in St. Louis, Mo., and owned by Energizer Holdings Inc. According to STP's website, "For over 60 years, and for more miles than anyone can count, STP® has been one of the most trusted names in automotive care. Car enthusiasts, 'Do-it-Yourselfers' and professional racers rely on STP® oil additives, fuel additives and brake and power steering fluids to keep their vehicles running better, for longer." STP has a long history of sponsorship in motorsports, most notably with "The King", Richard Petty, who dazzled fans with his iconic "Petty blue" and dayglo orange color scheme on his No. 43 car. An inaugural inductee into the NASCAR Hall of Fame in 2010, Petty holds NASCAR records for most wins (200), most wins in a season (27), most consecutive wins (10), most starts (1,185), and is tied for most championships with seven, among many other categories.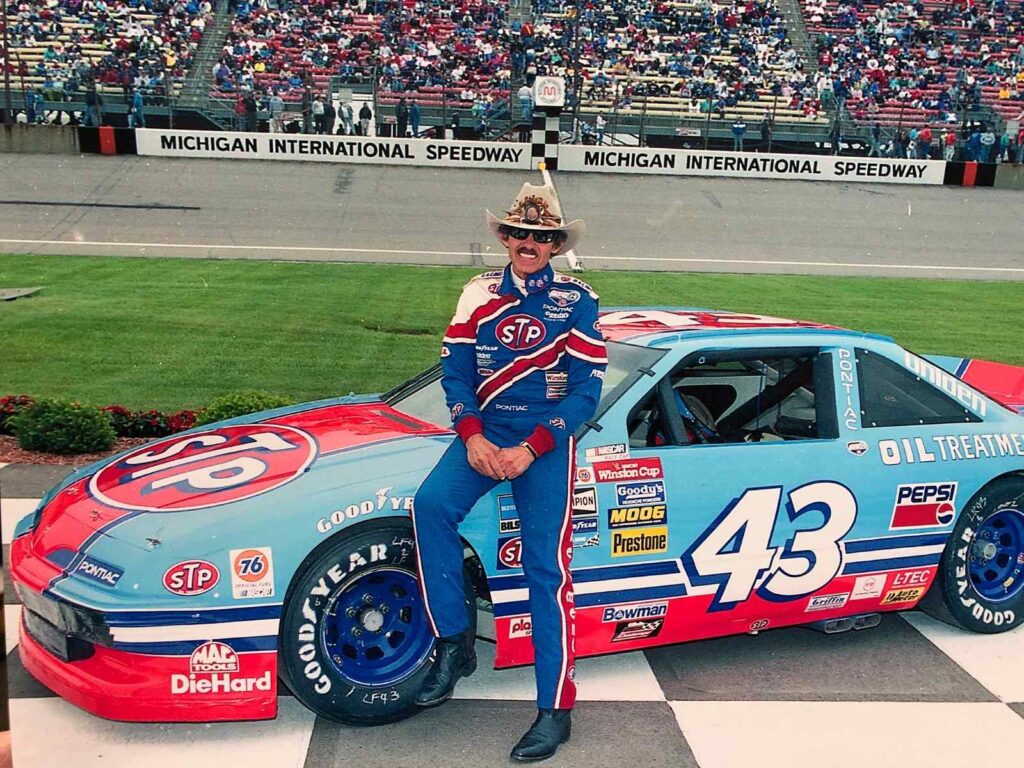 "Because of how STP changed hands in ownership over the previous years, we had to reestablish that business," Klug said. "STP has been a sponsor of Richard Petty for 52 years. They were with him for 20 years as a driver, and then continued to sponsor Petty Enterprises and Richard Petty Motorsports, while also keeping a personal endorsement with Richard himself.
"Last year, STP was just on the b-post of the No. 43 car, and they did a primary sponsorship for a truck race with Thad Moffitt, who is Richard's grandson," he continued. "Through that, we were able to begin to grow that business with Legacy Motor Club. This year, STP increased its presence aboard Jones' No. 43 machine, and is the primary sponsor of the All-Star Race this weekend at North Wilkesboro. This is a great fit for STP, considering their legacy in motorsports and Petty's success, especially at North Wilkesboro."
The success of Petty that Klug references at North Wilkesboro Speedway is quite lopsided in the history books. "The King" won a NASCAR record 15 times at the 0.625-mile oval in Wilkes County North Carolina, five ahead of Darrell Waltrip's 10 victories. With North Wilkesboro becoming the destination of the 2023 All-Star Race in celebration of NASCAR's 75th anniversary, it was a no-brainer to resurrect the "Petty blue" and dayglo orange paint scheme for the 39th running of its annual mid-season exhibition race.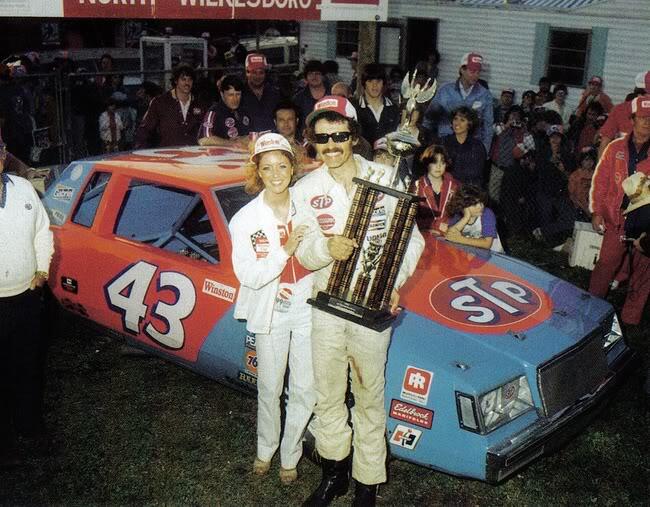 For Klug, this weekend's paint scheme reminds him of the romantic nature of sports. It's a culmination of the journey that took him from his first time gazing upon the STP paint scheme at the famed track in Milwaukee as a wide-eyed young boy to the here and now managing that very same partnership at the NASCAR level.
"Professionally, it's incredibly gratifying and rewarding to work on a piece of business with such an iconic brand," Klug stated. "It's a brand that takes me back to when I saw Gordon Johncock in an STP sponsored car all the way back in Milwaukee so many years ago. It truly is romantic.
"Adding to the romanticism of this experience is my family," he continued. "I met my wife, Kellyn, while we were both working in motorsports. We have two children, Sophie and Broc. Seeing Broc in particular, I see a lot of myself: that eager, amazed, and innocent boy from so long ago just taking in the sights, sounds, and exhilaration that is motorsports. When I take a step back and see everything, I truly am blessed with what has come to be in my career and my life.
"It's also hard to believe I've been with Spire for five years. Having known TJ for all this time, it feels much longer. That speaks to the family feel of Spire across the board," he concluded. "To see how much this company has grown since I came on board is remarkable. With two professional hockey teams, two NASCAR charters, and all of the other partnerships and projects like this that Spire has, it's been a privilege to be along for the ride and support this. I'm so grateful to Jeff Dickerson and TJ Puchyr, co-owners of Spire Sports + Entertainment. There's a symbiotic trust, and those two make this a place where people want to be. Every day, I get to work with true friends."
Fans can see the iconic STP paint scheme come to life on Erik Jones' No. 43 Chevrolet Camaro ZL1 during NASCAR's 2023 All-Star Race at North Wilkesboro on Sunday, May 21st, at 8 p.m. ET on FS1.